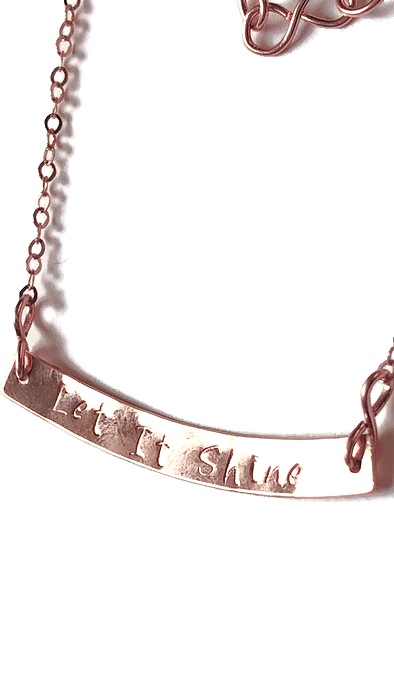 Let It Shine Necklace
Let It Shine Necklace
This little light of mine, I'm gonna Let It Shine!
This rose gold bar necklace is a great reminder to let your light shine, babe. In every situation you face, choose to be the light bearer!
"You're here to be light, bringing out the God-colors in the world. God is not a secret to be kept. We're going public with this, as public as a city on a hill. If I make you light-bearers, you don't think I'm going to hide you under a bucket, do you? I'm putting you on a light stand. Now that I've put you there on a hilltop, on a light stand—shine! Keep open house; be generous with your lives. By opening up to others, you'll prompt people to open up with God, this generous Father in heaven." Matthew 14-16 The MSG
This makes a great everyday necklace!

14 karat rose gold fill metal details

Comes with your choice of gemstone for the clasp (see 4th photo) Pictured here is a clasp adorned with herkimer diamonds

Comes with a handcrafted ornate clasp and infinity links

All Lauren Angelica Jewelry is handmade to order just for you so each piece will be unique and may vary slightly from what is pictured. Due to its handmade nature, please allow 7-10 business days for orders to ship.

Comes packaged in a lovely gift box and mauve pink gift bag with a bow on top 💕
✦ ABOUT GOLD FILLED ✦
✧ Gold filled is an actual layer of gold-pressure bonded to another metal.
✧ Gold filled does not flake off, rub off or turn colors.
✧ Most people with jewelry sensitivities can wear gold filled without worries of any allergic reaction.
✧ Heirloom jewelry from the 1800's is often gold-filled which gives us confidence that it will last a lifetime!
____________________________________________

✦ GOLD FILLED CARE ✦
✧ Warm water and a soft cloth are the best thing you can do to maintain the beauty of your jewelry.
✧ Jewelry polishing cloths work great and are non-abrasive.
✧ For a deeper, occasional cleaning, a drop of dish soap on a toothbrush will return its luster.
✧ Salt water and chlorine in swimming pools take their toll on all fine jewelry.
✧ Many chemicals marketed for cleaning jewelry are actually somewhat abrasive or corrosive and can cause damage or color alteration to your jewelry.